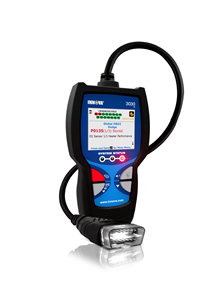 WARNING
This product can expose you to chemicals including DiNP, which is known to the State of California to cause cancer. For more information go to www.P65Warnings.ca.gov
CanOBD2® Diagnostic Tool™ Color Screen
Part#3030h
It's easy and affordable to diagnose CHECK ENGINE lights with the consumer-friendly INNOVA 3030 handheld tool. Use it to find out why these lights are on, see if your car is ready to pass its emissions test, check for road trip readiness, determine if a problem is something simple you can fix yourself, and even double-check mechanics' estimates.
Product Features:
Works with any car, light truck, minivan, SUV or hybrid manufactured since 1996 (OBD2) – foreign and domestic.
Connects to the OBD2 port (usually found under the steering column).
Patented, 2.8" all-in-one color display screen shows 20 pieces of vital information all displayed at one time, including diagnostic trouble code(s) and their definition(s) in English, French and Spanish.
RED-YELLOW-GREEN LEDs indicate emissions test readiness and alert of pending problems (great for a quick road readiness test or used car inspection).
4-button format keypad simple tool navigation.
On-screen diagnostic trouble code (DTC) definition in English, French, and Spanish defines what triggered the CHECK ENGINE light to turn on.
Read and Erase CHECK ENGINE light codes with a click of a button.
Freeze frame shows engine conditions such as fuel trim, engine coolant temp, etc., at the time the Malfunction Indicator Lamp (MIL) was set.
Automatic refresh updates data every 30 seconds when connected to the vehicle – an easy way to verify repair completion.
Free software and firmware updates, with included USB cable and any Internet-enabled PC or Mac.
Includes optional access to RepairSolutions® -- the most comprehensive, verified fix information available. Just connect your Innova tool to an Internet-enabled computer to see the most likely fix; estimate parts and labor for your specific geographic region; and see repair difficulty level to help decide if you want to fix it yourself.
Optional Upgrades/Coverage:
Optional premium RepairSolutions® coverage to access accurate, recommended fix (es), labor times, how-to-repair videos, predicted failures, unscheduled maintenance reminders, TSB and recall notifications, and more.