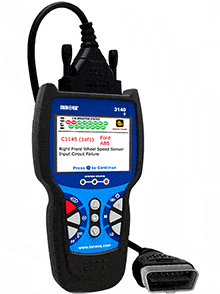 WARNING
This product can expose you to chemicals including DiNP, which is known to the State of California to cause cancer. For more information go to www.P65Warnings.ca.gov
OBD2&1 ScanTool with ABS & SRS
Part#3140g
An advanced tool for the professional tech, yet user-friendly for the DIYer. The 3140 scan tool is a great choice for anyone looking to stream & record Live Data, diagnose Check Engine, ABS and SRS Lights, Reset Oil Maintenance & Battery Maintenance Lights, or Initialize a Battery on OBD2 vehicles! Additionally, the 3140 retrieves OEM-enhanced trouble-codes and performs KOEO, KOER, Timing Check, Cylinder Balance, Output State, and Wiggle Tests on popular OBD1 vehicles from 1982 to 1995.
Product Features:
Read and clear Check Engine lights on any foreign or domestic 1996 and newer OBD2 car, light truck, SUV, and even Hybrids!
OBD1 Kit to diagnose most older model vehicles (1982-1995).
Read and erase ABS & SRS trouble codes on most OBD2 Domestic, Asian, and European vehicles.
Reset Oil Light on popular OBD2 vehicles.
Reset Battery Maintenance Light & Initialization.
Stream, record, and graph real-time Live Data. Review the data at a later time on the tool screen.